I've got a lot on today's agenda again :D
The Kickstarter of the SpiderForest Coloring Book was a success and even reached two stretch goals - thank you to all who pledged for helping us get there!
As I'm soon in need of a newer car, I also figured a bit of a money cushion wouldn't hurt, which is why I also opened commissions, prices can be found here and to order one you can just send an email here: sophie [at] gerritianchronicles [dot] com If you want to support in another way, there's always the Patreon, which is by the way three pages ahead of the website!
I'll also remind you of the survey that is currently on-going. I already got quite a few responses, so a big thanks to those who took the time to answer my questions :)
And now, last but not least, the SpiderForest Comics of the Week:

Arbalest - A monster with six months to live learns to transcend the role that a small village has dictated for her.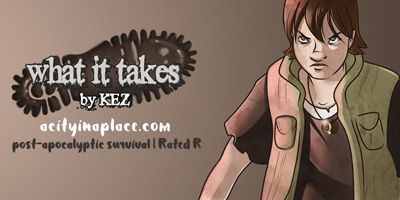 What it takes - Post-apocalyptic martial arts survival, zombie-free! Colbey survives the end of the world, but while trying to find her fiance amid the ruin, she must navigate scorned scientists, tyrannical factions, and the occasional explosives. Rated R.